One July goal already accomplished.
It?s only July 3rd and I?ve already accomplished one of my goals for this month. I finished the second part on BC?s Snapperville. I really like how this village is coming alive. The next installment has a cat and a house, so I may be tempted to do that this month as well.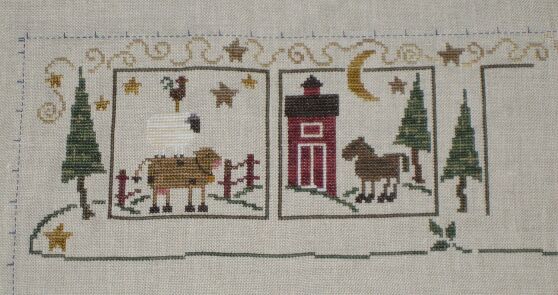 Other goals for this month are:
1. Finish BC?s Barnyard
2. Finish Strawberry Season
3. Finish Gingerbread Boy canvas
4. Finish one of the workshop for the fall season (I have yet to set
up the schedule)
5. Stitch 7 motifs on DT?s Souvenir Sampler
6. Stitch 1 JBW Designs (have yet to decide which one).

I only have to do part of the metallics and the beads on Strawberry Season. That is hopefully one of the things I can do this week. A rather sudden gift came across as well and it needs to be finished quite soon. I made the design for it this morning and hope to get stitching tomorrow.

In between I am trying to reorganize my study. It needs some work and I want to rearrange things and I hope to get it sorted out this month. I definitely want to have a spot where I can show all the gifts I?ve received from exchanges.

Posted by dehandwerkboetiek at 9:37 PM MEST