A lot of pictures
Topic: Cross Stitch
It?s been a long time since I have updated my weblog but I hope that these pictures make up for it. This is my birthday gift from Theresa, a buddy who belongs to a group in which we stitch a gift for one of the buddies? birthday. Theresa stitched me the most amazing threadkeeper with an adorable needlebook. The threadkeeper has a pouch on one side and on the other three rings on which I can put my threads. She also included a pair of Gingher scissors. The scissor fob has my initial on one side and a flower on the other, all stitched over one. The needlecushion has Happy Birthday on one side and a quaker motif on the other. On the side band she stitched our initials and the year 2005. The needlebook is seperate and equally wonderful. Her finishing skills are incredible. It?s a shame that pictures never do a piece justice.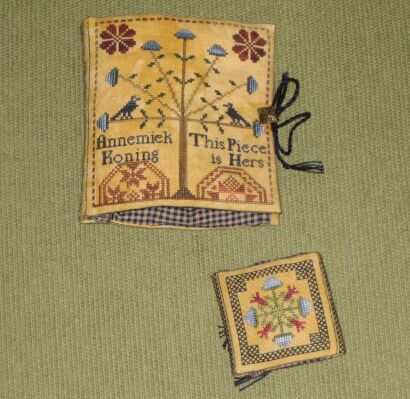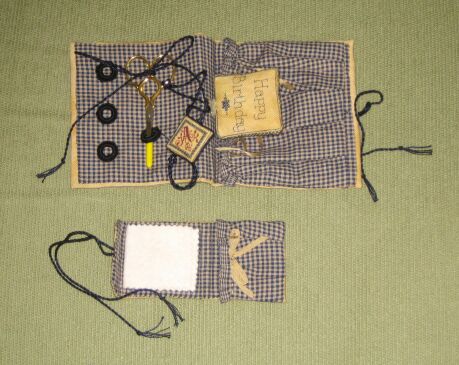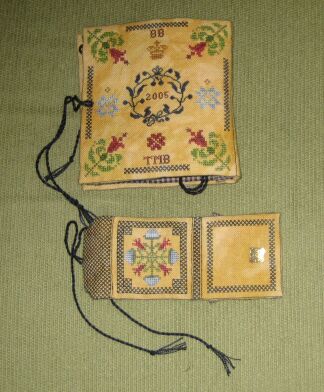 I don?t know how I feel about sharing my Saturday evening project after this wonderful stitching, but anyway. Here?s one of the two bibs I wanted to stitch for two co-workers who are pregnant. I loved the fact that I could finish it in one evening. I started with the second one today, but it?s not done yet and tonight is Mouline Rouge night.




I have been working on a JBW design project that?s almost done except for some beading, which will take a while. Then my freebie exchange project is also nearing its completion. Just needs some final touches. My head is swimming with possibilities of new projects, I think one of the next ones will either be Halloween or Christmas.

Apart from the JBW Design, the bib and the freebie exchange gift, I've also finished my Scary Wabbit. The stitching that is LOL. I love how he turned out and will certainly do another Wabbit. I have ordered the silk ribbons for the finishing and hopefully can do that during my September vacation.




Sunday evening I managed to get some more work done on Mouline Rouge. This project is so addictive, I stayed up longer than I had anticipated. I hope that next Suncday I can stitch a little longer on my MR and will post a picture of my progress once another 4-5 hours are done.

Back to my stitching, I hope to get the beading done on the JBW Design so that I can post a picture.

Posted by dehandwerkboetiek at 1:59 PM MEST
Updated: 23 August 2005 7:54 PM MEST