Quilting bug
Topic: Quilting
It?s been a while since I updated my weblog, life was just too hectic and I didn?t get to sit down and write. Now that things seem to have slowed down a little, it?s time to share my latest "bug" with you. I have been bitten hard by the quilter?s bug. For years I have admired quilts and love the craftmanship that goes into it. Since I already was heaviliy into stitching, I firmly told myself I couldn?t have another hobby and that I?d just have to keep on admiring. Well, the good news is that lasted for about 7 years, the bad news is, I gave in this past week. Truthfully, I don?t consider it bad news at all, I?ll just have to make sure that my house doesn?t outgrow my hobbies.
It all started with a picture of a quilt in one of those Home magazines. I have been searching for new bedlinens for quite a while and couldn?t find anything that I liked. When I saw the quilt in that magazine it dawned on me that I could make a quilt out of fabrics that I liked and then add neutral colored bedlinens in a matching color. After some help from my Internet buddies, I found what I think is the perfect mix of fabrics, it?s called Buttercream and Figs by Moda Fabrics. Below you see a picture of the colors I will use in my bed cover.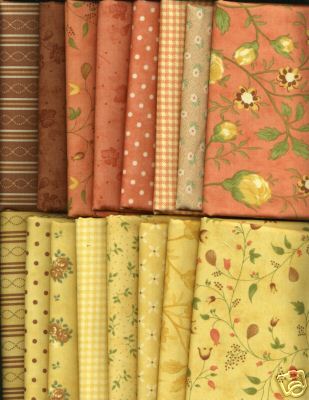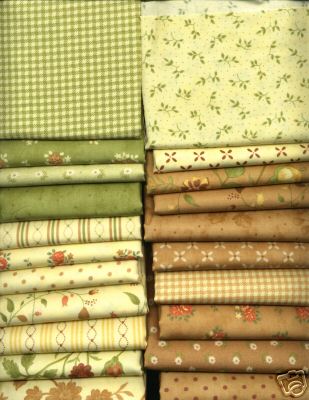 Then I went to my local quilt shop to get some information on basic quilting techniques. The ladies there explained several things and I picked up four new fabrics for my first try quilt. It?s going to be a small one, only 60 x 60cm, and I have yet to decide if this will be a small quilt for Miss Murphy?s basket or if I will turn it into a pillow for the couch. It will be a simply quilt, with just straight lines that I can sew on the machine. While being there, I browsed through some magazines and low and behold, they had a picture of an antique quilt in one of the magazines that was exactly like what I had pictured mine to be. I knew I needed something that was not too complicated, so I opted for straight lines that I could sew on the machine. Here?s what the antique quilt looks like and combined with the picture of the fabrics you?ll get an idea of what the final result should be.
(I will add the picture later)

I also signed up for this quilt project (I know I overestimated my free time but it is sooooooo lovely that I don?t care when it?s going to be finished). I saw how Catherine had done two blocks and really, really like it. This might become a second bed cover as I would love to have it on the bed. It?s 132 x 132 cm now, but I might make it larger by adding a border or two.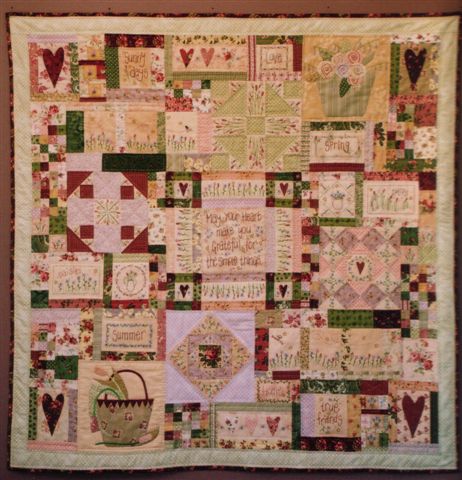 So I will have to set aside one day a week for my quilting projects and see how they come along. It?s a good thing I have two weeks of vacation coming up in September so that I can get a head start on the bed cover. Hopefully, my little quilt is done by then and I still like doing it.



Posted by dehandwerkboetiek at 1:21 PM MEST
Updated: 25 July 2005 3:11 PM MEST