Another Little House Needleworks
It is simply irresistable to start a new Little House Needleworks project. This is Daisy Lane Cottage, one of my favorites, but then I seem to say that with almost every new release. I am stitching it on 36 count Flax Edinburgh and am a bit worried about the white not showing up too well. The fence is all white and if it doesn't show up, I'll change it to the light blue of the house.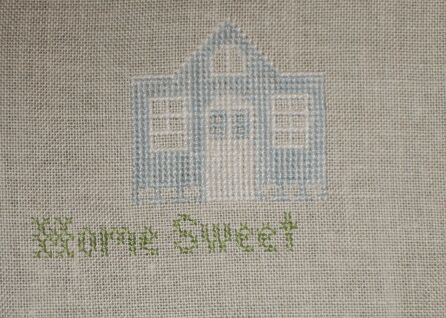 I discovered that I made a mistake in the swirls above my Snapperville, so I'm frogging there. It's not too far back, so I should be able to get it al stitched again this weekend. I really like how that one is coming along too.

I will start my exchange gift too, have to decide which design it is going to be. There are so many choices and just not enough time. Also, I do want to be sure that I can finish it the way I'd like to. I hope that this summer I can use some of my time to experiment with new finishings.

Posted by dehandwerkboetiek at 9:56 PM MEST