Back to my stitching
Mood:
energetic
Topic: Cross Stitch
Apparently my stitching slump is over. Yesterday evening I started my Mouline Rouge again, this time next to a vertical thread. I don't know if that made the difference, but it went rather fast. I stitched for about 2 hours and got this much done. I just love how the 100/3 silk shows up and how it stitches. It has a tendency to kringle a little, but it's easy to untangle. I hope that tonight I can stitch the letter G and maybe a little more on the motif.
My two exchange projects are coming along. One just needs sewing, the other a little more stitching. I took it with me to work today and used my lunch time to get a bit more done. Once I got started, it was hard to put it aside. I need to work on this one tonight as well so that I keep on schedule. Finishing this one is not so bad as part of the stitching is the finishing. Rather cryptic I know but I can't share pictures until the project is received.
I got my quilting blocks sorted out yesterday and really like how it looks. I will make this into a small quilt for Miss Murphy as I don't think it looks interesting for a pillow cover. As Miss Murphy decided to sit on it yesterday for quite a while I think she agrees with me. I have Friday afternoon off and hope to get some sewing done.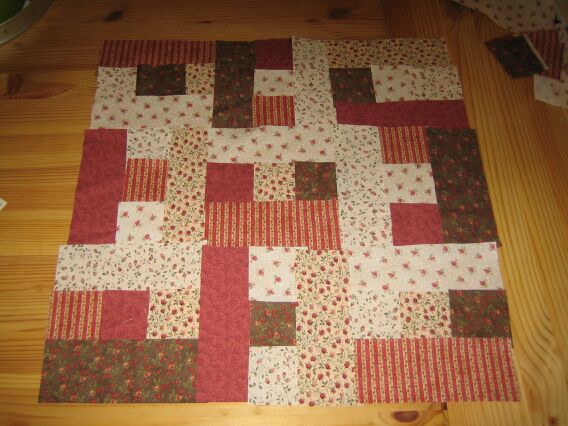 I got everything sorted out for the Buttercream and Figs fabrics and the seller notified me that the packages are leaving today! I really can't wait to see them. I have all kinds of ideas to use up the scraps. Now if I only have enough time to declutter my bedroom :). I think I will leave this project till my vacation time in September. I may start cutting some of the fabrics, but the sewing will have to wait.

And in between all this stitching and sewing I will have to write the Newsletter for the shop as well. If a day only had more hours.....



Posted by dehandwerkboetiek at 3:19 PM MEST
Updated: 25 July 2005 10:20 PM MEST