Picked up a WIP
I suddenly realized that I hadn?t worked on my Snapperville in quite a while. I started working on it yesterday and have the barn on the second installment almost finished. Just the white lines are left to do. It?s very relaxing to work on, nothing too complicated, and the overdyed colors really make the piece come alive. Can?t post a picture tonight, but will try to do so tomorrow.
In the meantime I am trying to see if a Dutch translation of the saying underneath the six installments would work. I don?t think it sounds as nice as the English one, but I?ve come up with:
Leer ons het belang van ieder uur van iedere dag die voorbijgaat (Teach us that we may feel the importance of every day of every hour as it passes). It?s a bit shorter which must be a first cause usually the Dutch translation is a lot longer.
I tried to see if I could find a nice picture for today?s posting.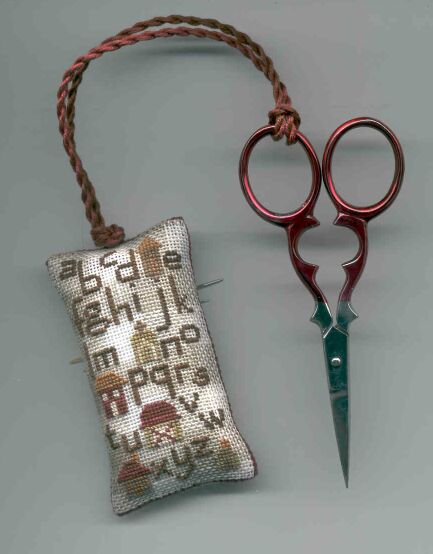 This was probably one of my most enjoyed stitched project of last year. It?s a free chart by Twisted Threads and I stitched it over one with the Weeks Dye Works it calls for. Then I finished it by backstitching a border around the design, backstitching a border of the exact same dimensions on another piece of fabric and whipstitch the two together. It?s a great way of finishing, you can do it by hand, you work on the right side of the stitching and I find it very easy to do. (I just noticed that the needle I used is stuck in the back)

Posted by dehandwerkboetiek at 10:54 PM MEST