Still catching up
We are just back from the Patchwork and Quiltdays in Rijswijk and had a great time. It is so wonderful to meet our customers in person. We've seen some breathtaking quilts and there were more tempting quilting fabrics out there than we could justify to bring home. Both my mom and I bought some fabrics, but we tried to be good. A pictures of our treasures will have to wait, as they are all in the shop.
But as I still have some catching up to do on prior finishes and starts, I thought I'd update my weblog with a few pictures.
First one is the heart by Renato Parolin. You have seen it in progress and I finished it 2 weeks ago. These hearts (Cinco Coeurs) are really adorable.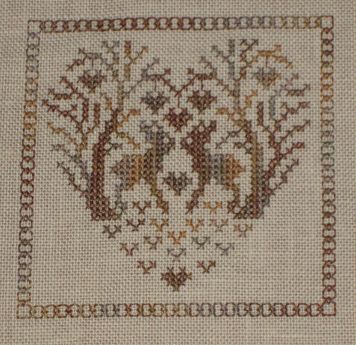 Next is a project I started in Zwolle, I think. It's a Trio of Snowmen from Stitchy Kitty. Ever since I saw the chart, I knew I had to start it. It is stitched with Weeks Dye Works, Sampler Threads and Venus threads on Ice Blue Belfast linen.
I still have to fill in the spots in his scarf and hat, and he's missing his arms as my WDW Rust has gone MIA but I really like him. I want to stitch all 3 snowmen on one piece of linen and then figure out what kind of border I will stitch around them. Almost one down and two to go.
Posted by dehandwerkboetiek at 11:32 AM MEST