A finish and a UBU
Topic: Cross Stitch
I finished up Spring Seasonal House by The Workbasket and really like how it turned out. The Silk 'n Colors are great to work with, and it's been fun to select the threads I wanted to use.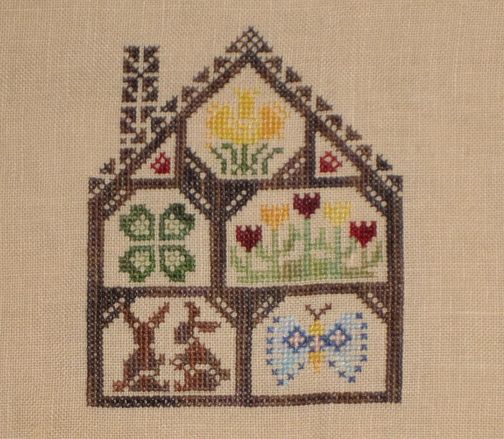 I am still not 100% sure on how to finish it, I may end up finishing it as a little stand up.
Then I started a UBU. You might wonder what the heck that is. It's in Dutch and means Ultimate Cross Stitch Challenge (Ultieme Borduur Uitdaging). I have been wanting to stitch different designs on a large piece of linen so that it can be used in stands, but also in the shop.
As most of you know, I am not very good at finishing large projects but this I think (I hope

) is different. It is basically a lot of medium to small projects that are stitched on one huge piece of linen. My theme for the UBU will be The Prairie Schooler, as I just love this designer and have many designs that I'd love to stitch but didn't want to get framed or otherwise finished. Below you see a picture of my piece of linen covered bythe PS charts.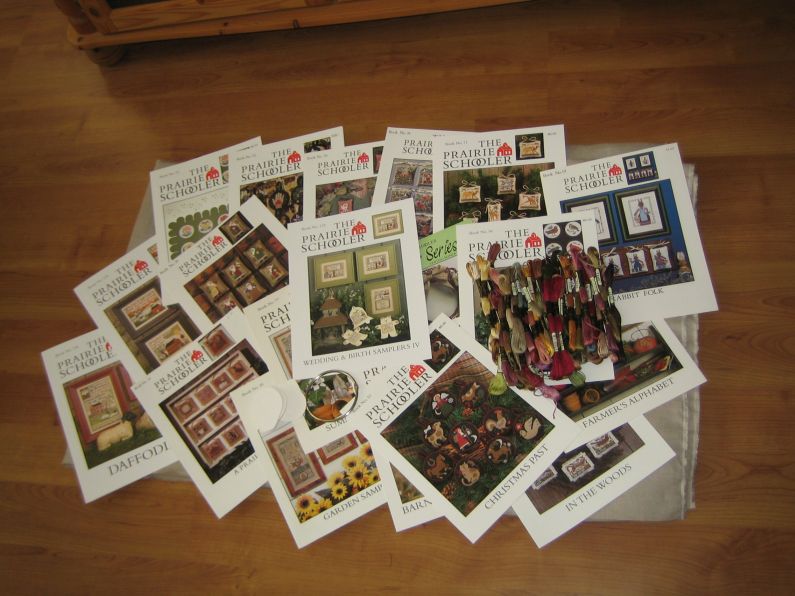 To give you an idea, I cut a piece of linen of 220cm x 180cm. The final piece will be smaller, more like 180 x 130cm. But it is huge.
I have set up a seperate weblog for this UBU. It is in Dutch and if you want to join the UBU challenge, let me know so that I can add you to my links. If there is enough interest, we can set up a shared weblog either in Dutch or in English or both.
This UBU project is really on the top of my mind, I hope to have a new start (read the weblog for the story) this Friday and make some progress on Saturday evening. Next week we have a couple of days off and I really hope to get quite a bit done.
Posted by dehandwerkboetiek at 10:13 AM MEST