Fair and Square
Another picture I can share now are the squares I stitched for my Australian partner in the Fair and Square exchange. Sharon received a free chart by A Mon Pierre Ami stitched in Waterlilies Periwinkle. Great color IMHO, thanks Candy for introducting me to it. I stitched this during the flight to Nashville as well.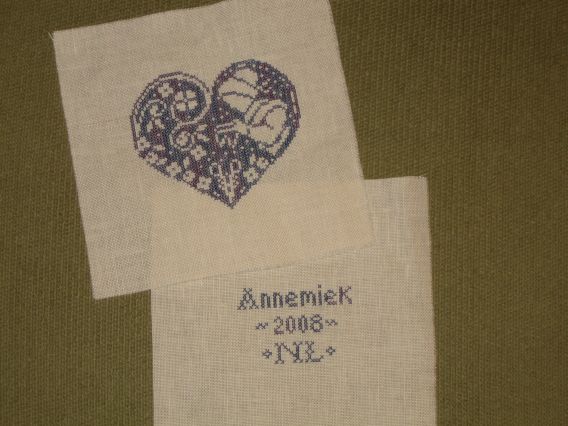 Last week I stitched up one of the latest JBW Designs, Flower Basket from the French Country series. I used Valdani thread for this, we brought several colors from Nashville and the good thing is that the overdyed threads are colorfast. I want to give that a trial run on a small towel to make sure it actually is colorfast, but the colors are great and the thread was really nice to work with. I changed the words to Belle Fleur (without the s) as I think that is correct French (if I remember well from high school it should be Belles Fleurs).
I have quite a few more projects that I would like to start, but stitching for the workshops takes precedence at the moment. I am working on this months installment for Rosina Luger and also My Stitching Treasures by Jeannette Douglas Designs.
One design I definitely want to stitch is Briar Rabbit by La D Da, I really like this tall rabbit and the design has an alphabet to stitch as well, what more can a girl as for.
Posted by dehandwerkboetiek at 11:43 AM MEST
Updated: 26 March 2008 2:23 PM MEST