Back in town (or should I say blogland)
Well, officially I have been back in town for a while, but not here. Nashville was great, we had a wonderful time and picked up quite a lot of goodies. It always amazes me to see how many new designs come out at market. The creativity of the designers really has been flowing.
In between market, Nashville days, an alumni event for my other job, I have managed to stitch a bit. Well, quite a bit I think. First of all, My Stitching Treasures, the workshop of tomorrow evening. It's a joy to stitch, Jeannette Douglas always manages to put together a wonderful mix of cross stitch and specialty stitches.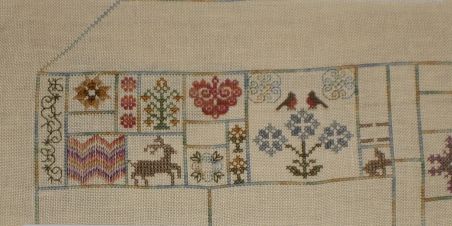 I have stitched a bit more on the right side of the design and all the outlines are done, but this was the part that was on my Qsnaps.
I also managed to have a finish, it's one of the newest designs by JBW Designs. I really really LOVE this French Country series from Judy. This is amour and I stitched it over one on 32 count cream Belfast with one strand of Waterlilies Periwinkle.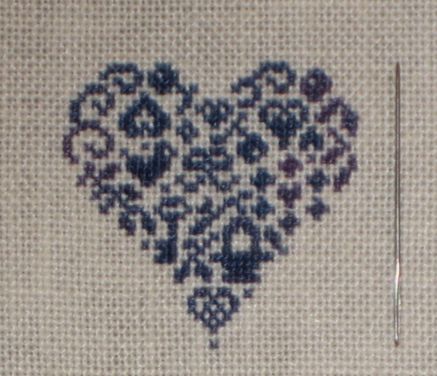 I've included the 26 needle I used to show how small it is. The picture actually makes it look a little bigger.
And the last picture for today is my progress on one of th hearts by Renato Parolin. This is a new designer that we carry in the shop and he has amazing designs. There are 4 more hearts in this leaflet and I might do another one with owls.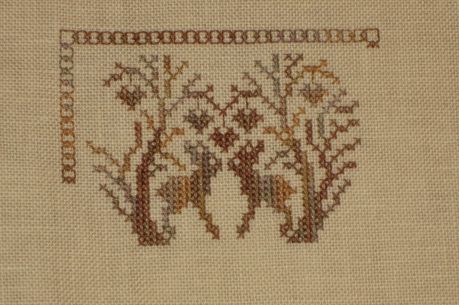 This one is stitched on 32 count antique ivory Belfast with one strand of Waterlilies Burnt Toast. Great color if you ask me. I started this on the plane to Nashville and haven't been able to stitch much on it lately. Most of my focus these days is on the workshops that are planned for March.
I still have a few more pics to share so stay tuned.
Posted by dehandwerkboetiek at 10:38 PM CET