Easter Parade
It's been a really long time since I have updated my weblog, but a rather nasty virus had me on the couch and in bed for most of 2 weeks. Luckily, I am completely recovered and so it is time to post some more stitching pictures.
First of all, here are parts 1-4 of Rosina Luger. I so love this project. The silk is wonderful to work with and covers the fabric so neatly. There is a shine on the silk that I cannot capture with the camera, but it is there.

Do you have a design that you have been wanting to stitch for years, never found the time to do it but it keeps lingering in the back of your mind? That is Easter Parade by Blackbird Designs for me. Ever since the chart was published in 2005 I have been in love with it. I don't stitch for Easter, but this bunny was just screaming at me to get stitched. Of course life got in the way and my bunny had to keep quiet.
During my second week at home I finally thought, what the heck, I am just going to start Easter Parade and we'll see when it gets finished. I had the perfect piece of Lakeside Linen (it's a scrap so I don't know what color it is), it was 40ct which suited me just fine and I had all the threads at home. I started with the border and worked my way up to the first flower on the left side. A week later the bunny was stitched and I so love how he looks. There are just the outlines of the bunny and the eyelets but boy it really is a bunny!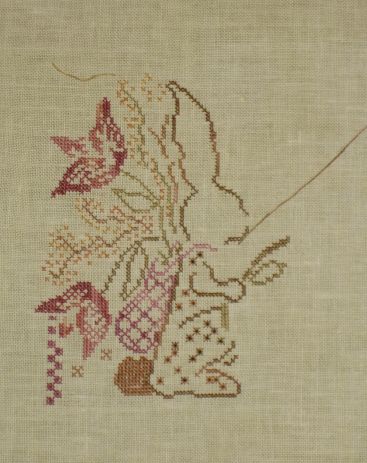 While browsing the internet I found a weblog where the owner had stitched Easter Parade too and her Berry Cobbler (used o.a. in the border) was more lilac than mine. I liked her piece much better, so I'll probably "unstitch" what I had done in Berry Cobbler and change it to Hyacinth (Sampler Threads). After all, this is EASTER Parade so it can look eastery (which is in my opinion pastel colors).

I took a closer look at the fabric and think it is either Lemon Ice or Cornsilk. I really wish I knew it for sure as I really, really like this color. It's a pity you can't see that the fabric is actually more yellow than the pictures shows you.
I got a bag of small pieces in Nashville and it's been fun to select projects for my small pieces. There are several other projects that I can envision being stitched on one of these scraps.
Posted by dehandwerkboetiek at 7:35 PM MEST
Updated: 26 March 2008 4:50 PM MEST