Where did time go?
I should have known when my colleague went off for vacation on June 1st that it was going to be a busy month. Apparently, I didn't realize how busy it would be. And so my updates on this blog are far and between. Not much stitching is going on either, though watching the EC soccer games does help.
Here's some progress on Himmel und Hoelle, I am really pleased with how it is coming along. Now all I have to do is fill in the small border and add the backstitch motifs. Then I can cross off one of my UFO's. Whow, that'd be a great accomplishment for the month.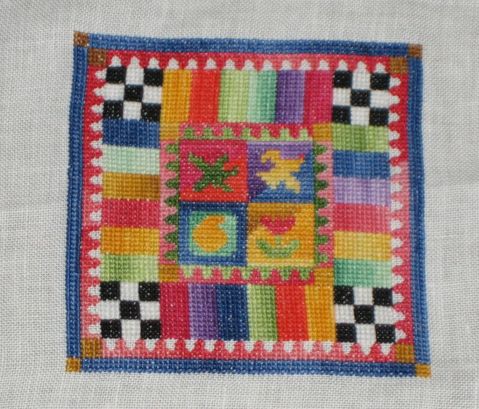 I started Little House Needlework's Schoolgirl Lessons way back in May when I thought I had more than enough time to stitch on a gazillion projects. This is how far I got, I want the words to be in Dutch so I graphed them in my computer programme, but haven't found the time to stitch them.
Linen: Belfast antique white
Thread: Gloriana Arnhem Heath
This is all stitching from quite a while ago, these days I am busy finishing the needlepoint project we're doing for the workshop. I am getting close to finishing it, just hope it'll be done by tomorrow.
Posted by dehandwerkboetiek at 5:21 PM MEST