Busy stitching and EC soccer
It's been a busy couple of weeks, busy at work, busy in the shop, busy stitching the last workshops, busy being busy

. Fortunately, there seems to be an end to this busy tunnel. And the EC soccer started, which means I will be glued to the couch while watching the games and stitch.
I can't share much of my stitching as one project is a surprise for our Strawberry day, two are for an exchange and 3 are not photographed yet. Pathetic I know. There is however, some stitching I can share. This is a free graph from Barbara Ann Designs.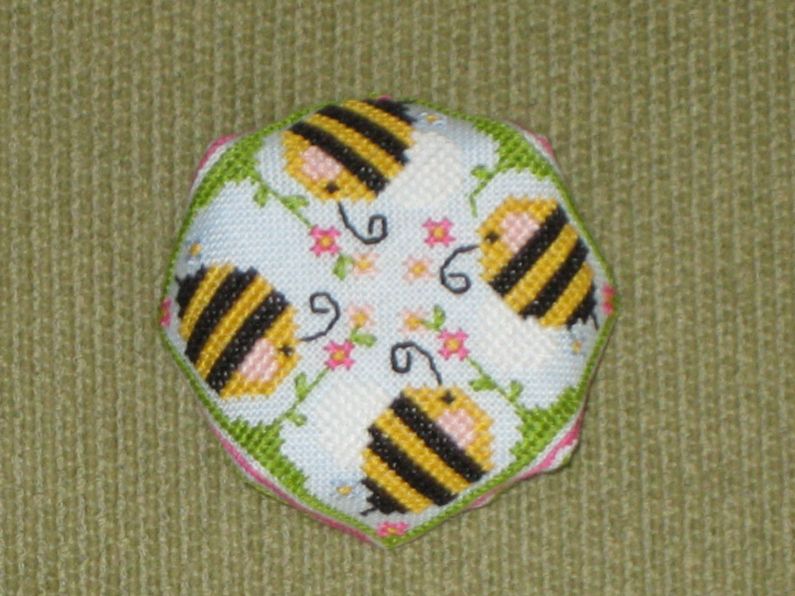 If you look at it, you'll see that one of the bees is "wingless". Why do you always discover this when you have put the whole thing together? Murphy's law for sure. Anyway, I have fixed it and the fourth bee can take off now as well, just don't have a picture yet. This was a lot of fun to stitch, quick and I love the colors.
I will make sure I take pics of my other projects so I can share them too. In the meantime I am thrilled to say that we beat Italy 3-0. That is a much better result than I would have thought we'd be able to do. And the team did a great job together. Next game is Friday against France.
Oh, and the color of the text is all in honor of our soccer team!
Posted by dehandwerkboetiek at 10:59 PM MEST