Uupdate on Himmel und Holle
Topic: Cross Stitch
Life is on a fast track this week, there seem to be a 1001 things to do and my to do list doesn't get shorter, only gets longer. But it keeps me from getting bored (honestly, I can't remember the last time I was bored)

.
A promised update on Himmel und Hölle is finally here, my newsletter readers will be glad no doubt. I am still amazed at how much fun this project is and can't understand why it has been neglected for so long. Maybe it's because there are fractional stitches in the design, which I absolutely do NOT like. But it adds to the charm, so there are just four more bands with fractional stitches, so I shouldn't be a whiner and just get it done.
Though I haven't been stitching a lot these past weeks, I did work on Spring Seasonal House by The Workbasket. I changed all the colors to Silk 'n Colors that were in my stash. The picture shows the design with most of the colors I use. It is always a little tricky to change the colors as you can't be 100% sure how they will turn out. After all, if you use the colors indicated on the leaflet, you know from the picture what it's going to look like. But I am rather pleased with how this turned out.
Fabric is 36 ct. Lakeside Linen Maple Syrup. I want to use Edinburg cream for the summer house. Haven't thought about the Fall and Winter house yet.
I also finished a small design that has been in the works since January. It's a gift for a friend. As you can see, I love stitching vertically when using an overdyed thread.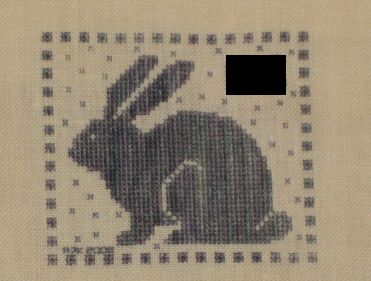 Fabric: Newcastle linnen cream
Thread: Tentakulum handdyed silk (it's a trial version, so there's no color name or number)
Design: Twisted Threads - Bunny Scissor Weight
I am working (on paper at the moment) on a new and very exciting project. The fabric has arrived, the threads been selected and I can't wait to start. It involves a new weblog, a favorite designer, approximately 14000 square centimeters of fabric, 65+ designs, over 50 skeins of floss and more stitches than I want to count now. I hope to be able to announce this project at the beginning of next week.
That's all now. Keep stitching!
Posted by dehandwerkboetiek at 10:13 AM MEST